Sometimes, breeder's enthusiastic descriptions of their dogs makes other people smile.
But sometimes, you turn your head and suddenly in a tiny puppy you see the past, the present and the future of a breed.
Many things have changed in the Miniature Schnauzer aspect in the last years. Are we always sure that this was a step forward, and not the almost total loss of what was so special in this breed? Why are we still calling them "mini" if they are as big as something inbetween Miniatures and Standards, why are we calling them blacks, or black and silver, or pepper and salt, when a unique genetic heritage as the pure schnauzer color is disappearing in dirty and misty tones?
Our Nichi Eternity, (32,5 centimeters at withers, 7 kilograms in weight, head 17 centimeters long, explosive temperament, correct wiry coat, with black and white stripes on every single hair), represents, in her entire being, not the past of the breed, but the correct evolution of what have to be considered the Miniature Schnauzer.
We thank our friend Yves Tonossi, worldwide known breeeder that under the name "de Bacara" produced some of the most important champions, for having decided to dedicate some of his time and experience to this very special girl!!!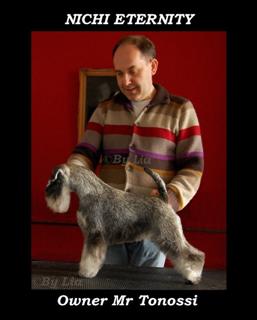 Nichi Eternity, miniature Schnauzer
Lausanne (CH) Sat. Res Best in Show Puppy Lausanne (CH) Sun. Best in Show Puppy