Welcome in our wonderful World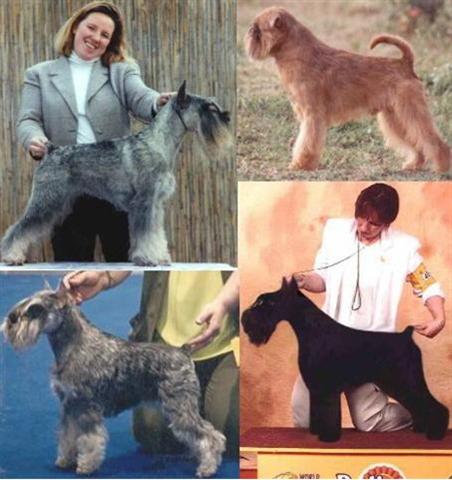 We breed since more than 40 years our Schnauzers, Standard and Miniatures, and our Griffons, with the aim to keep on living always with healthy and equilibrated specimen, correct in construction and mind.


Our life companions are known as great champions and important reproductors, which kee on the highest level the reputation of their breeds. We hve won so far 64 World Champion titles and more than 180 National Titles.

Our partecipation to the dog shows is not a moment of self-celebration: it is instead the occasion to obtain an objective certification of our dogs qualities.
In the same way, the achievement of some champion titles, possible only after having cleared some temperamental tests and some checks on the most common hereditary diseases, do certifies not only the highest morphological level of our breeding stocks, but also their attitude to produce healthy and typical offspring.

If you decide to admit into your family a puppy produced by two Champion parents, born and raised in a specialized kennel, you should not have as goal to show off with your neighbours or to elevate your self-esteem. It will be insted a responsible choice, that will take in good account life quality and life span expectation of your new companion, and goals and expectations of the family, that will be fully satisfied by the relationship with the new puppy. It will mean to have as referral one of the most important breed experts, who knows the pup since his first breath and that will be by your side every time you will face doubts or problems.
We wish you a nice visit of our pages. Please drop a few lines in our Guestbook..
Contact us in Italian - English - Deutsch - Français - Español

Nichi Wiederhofer & Fabio Cesana
Il Campero - 43020 Mediano - Parma ( Italia )
Tel+39 0521 846130 P. IVA 021 122270347